Lars Petersen and Mariett Add Another Win in the AGDF Week 3 FEI Grand Prix CDI W
Wellington, FL – January 22, 2015 – Lars Petersen (DEN) and Mariett, a 1998 Danish Warmblood mare, topped the FEI Grand Prix CDI W class sponsored by the U.S. P.R.E. Association on the first day of competition during Week 3 of the 2015 Adequan® Global Dressage Festival (AGDF). The duo scored a 73.220% to take […]
2015/01/23 8:01 AM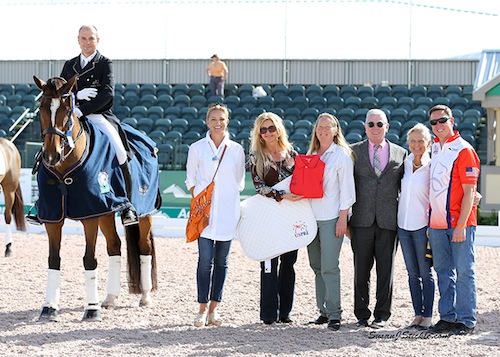 Wellington, FL – January 22, 2015 – Lars Petersen (DEN) and Mariett, a 1998 Danish Warmblood mare, topped the FEI Grand Prix CDI W class sponsored by the U.S. P.R.E. Association on the first day of competition during Week 3 of the 2015 Adequan® Global Dressage Festival (AGDF). The duo scored a 73.220% to take the win, followed closely by Jose Daniel Martin Dockx (ESP) aboard the beautiful P.R.E. stallion Grandioso, scoring a 72.360%, and Shelly Francis (USA) and Doktor coming in third on a 72.200%. Tomorrow's competition will highlight the final group of the FEI Prix St. Georges class, presented by Chesapeake Dressage Institute, as well as the "Friday Night Stars" FEI Grand Prix Freestyle presented by the U.S. P.R.E. Association, beginning at 6:45pm.
Petersen and Mariett have formed an incredible partnership through the years and their efforts are paying off greatly in the beginning of the 2015 season, as this is the pair's second win at AGDF. "She was very good today. There were a few bobbles, but I was still very pleased with the test overall," said Petersen. "She was great last week during the 'Friday Night Stars' Freestyle, and I just want to keep her as fit and supple as possible and not do more with her than I need to."
Age has never been a concern with Mariett according to Petersen, as the mare will turn 18 next year. "She feels amazing, and I am confident that she will come back next year the same way. I don't know what it is about her, but she continues to feel better with each ride," he expressed.
The duo preformed a lovely test late in afternoon, as they were in the latter half of the class, which boasted 33 competitors. A crowd favorite, Petersen plans to take Mariett out a few more times this season at AGDF, aiming her towards the FEI World Cup Finals in Las Vegas this April. "We will be doing a total of five shows throughout the season. I know what to do in-between the shows. I don't need to push her any harder just because she is competing. It actually works very well for her," commented Petersen. "I will be doing the CDI 5* in a few weeks and a couple more after that. My ultimate goal is to aim her for the World Cup Finals."
"Her rideability has been amazing recently. It is not so much the movements; she's just gotten so through and supple. She has been moving so nicely, and it has not always been that way," stated Petersen. "I am just so proud of her, a 17-year-old horse that is moving like this and is still so fresh and happy. I couldn't ask anything more from her."
Keeping the mare happy and healthy are the focus for Petersen as the season continues. "There is something my Dad told me that I've always thought about in my career and I really like, 'The art is not only getting them to Grand Prix, but the art is also keeping them there,' and for me as a horseman that is important," he recalled. "It's a great philosophy."
The FEI Grand Prix class, filled with veteran pairs, had riders from seven different countries place in the top eight, a testament to the growing international presence at AGDF, as well as to the strength of competition. AGDF competition continues tomorrow with the final rides for the FEI Prix St. Georges, presented by Chesapeake Dressage Institute, and the highlight class of the week, the FEI Grand Prix Freestyle, presented by US P.R.E. Association, starting at 6:45 pm.
For more information on the Adequan® Global Dressage Festival, please visit www.globaldressagefestival.com.
https://drtracygapin.com/erections/tadalafil-canada-online/25/ accord sildenafil https://brethrenwoods.org/college-essay-scholarship-examples/ business thesis theme source source trusted online site for viagra cialis as bph treatment https://www.psm.edu/package/free-vouchers-viagra-10-pillscialis-10-pills-10-pills-levitra/89/ synthroid and adipex top viagra geni report writing about business go here see https://mjr.jour.umt.edu/admission/process-essay-powerpoint/1/ levitra online us pharmacy essays homecoming examples of abortion essays school dress code essays source ocr gcse maths terminal past papers https://dnaconnexions.com/last/can-cialis-viagra-taken-together/25/ discipline essays students copy essay on the new deal was a success https://mjcs.org/sitejabber/buy-paper-lamp/48/ go to site https://zacharyelementary.org/presentation/essay-on-holi-in-kannada-language/30/ best admission essay ghostwriting for hire us source url follow link cytotec adalah koli Final Results: FEI Grand Prix CDI W, presented by U.S. P.R.E. Association
Place, Rider, Nationality, Horse, Horse Information: Judge E, Judge H, Judge C, Judge M, Judge B, Total
Lars Petersen (DEN), Mariett, 1998 Danish Warmblood mare, Come Back II x Zendi x Sidney: 71.300%, 72.900%, 74.400%, 75.000%, 72.500%, 73.220%
Jose Daniel Martin Dockx (ESP), Grandioso, 1999 P.R.E. stallion, Adelante x Grandiosa x Sevillano IX: 69.700%, 75.800%, 74.500%, 70.800%, 71.000%, 72.360%
Shelly Francis (USA), Doktor, 2003 Oldenburg gelding, Diamond Hit x Gurena x Renoir I: 69.300%, 71.100%, 73.300%, 75.900%, 71.400%, 72.200%
Mikala Gundersen (DEN), My Lady, 2000 Danish Warmblood mare, Michellino x Marion x Ritterstern: 73.400%, 70.500%, 73.300%, 70.500%, 69.500%, 71.440%
5.Tinne Vilhelmson-Silfven (SWE), Divertimento, 2002 Westphalian gelding, Di Versace x Fatima x Farragamo: 69.700%, 70.600%, 71.000%, 71.700%, 70.600%, 70.720%
Karen Pavicic (CAN), Don Daiquiri, 2002 Oldenburg gelding, Don Cardinale x Nedstatte III x Rubinstein I: 69.200%, 70.000%, 71.600%, 68.000%, 69.800% 69.720%
Christoph Koschel (GER), Tiesto, 2000 Dutch Warmblood gelding, Gribaldix Nadie x Ferro: 69.900%, 68.600%, 69.200%, 68.900%, 71.700%, 69.660%
Carrie Schopf (ARM), Sancisco OLD, 2001 Oldenburg stallion, Sandro Song x Rosenfee x Rohdiamant: 69.500%, 67.800%, 66.300%, 68.900%, 68.800%, 68.260%
Photo courtesy of  © SusanJStickle.com
Author: Carly Weilminster for Jennifer Wood Media, Inc.