6th Annual International Gay Polo Week
Join HRC South Florida and their special guest Chris Leavitt of Bravo TV's "Million-Dollar Listing: Miami" at the 6th Annual International Gay Polo Tournament on Saturday, April 11th!!  Schedule: GPL Polotini Party: Friday, April 10th, 2015 7:00 PM – 11:00 PM Mix and mingle poolside with cold refreshments and gourmet food stations at the Mallet Grill, located at the International […]
2015/04/06 4:08 PM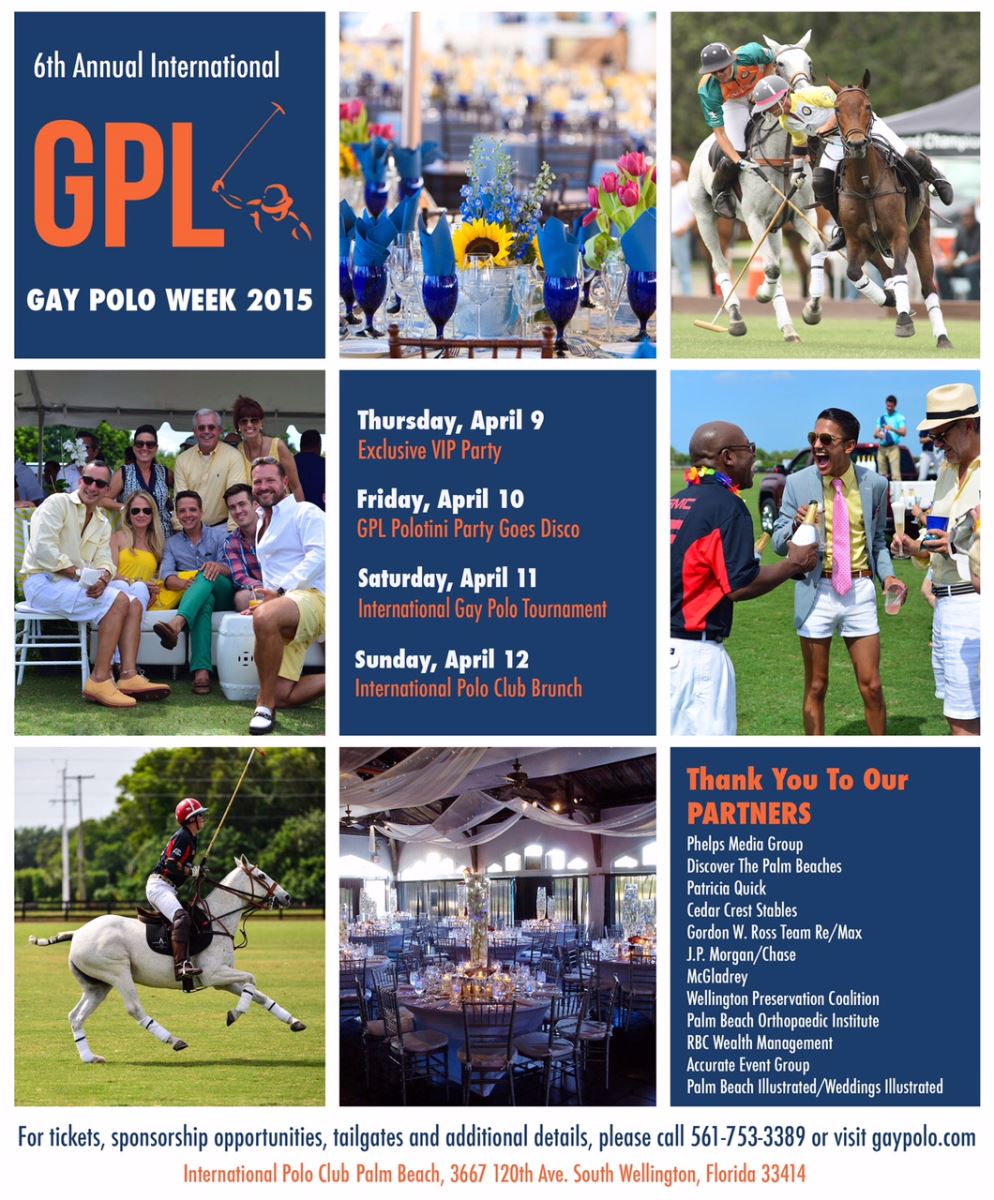 Join HRC South Florida and their special guest Chris Leavitt of Bravo TV's "Million-Dollar Listing: Miami" at the 6th Annual International Gay Polo Tournament on Saturday, April 11th!!
---
 Schedule:
GPL Polotini Party: Friday, April 10th, 2015
7:00 PM – 11:00 PM
Mix and mingle poolside with cold refreshments and gourmet food stations at the Mallet Grill, located at the International Polo Club Palm Beach! The Polotini Party will be hosted by the fabulous, Patricia Quick.
International Gay Polo Tournament: Saturday, April 11, 2015
12:00 PM – 7:00 PM
Gates open at 10 AM for Tailgate set-up! We will kick things off at 12 PM, so don't miss a beat! Semi-finals start at 1:00PM and finals, 3:00 PM. During the event, we will be judging tailgates for our Tailgate Competition Categories Contest! We are eager to see the creative masterpieces this year. After the tournament, we invite you to join us for a field-side after party!
Sunday Brunch: April 12, 2015
12:00 PM – 3:00 PM
Join the GPL Players for Sunday brunch at the remarkable International Polo Club! Brunch will include cold refreshments, hors d'eouvres and exquisite cuisine.  After brunch, help us cheer on the world's top polo players as they compete for the US Open!
---
Tickets:

 
To purchase tickets, visit gaypolo.com
Individual VIP: Tickets: $225  buffet-style food by the exquisite, Aaron's Catering, cold refreshments, and VIP parking.
VIP Tent on Tournament day: Table – $1200 (includes seating for 6)
Positioned on the mid-field line, this VIP tent is the perfect alternative to a tailgate. Attendees will enjoy a gourmet, buffet-style lunch by the lovely, Aaron's Catering. VIP attendees will also enjoy table-side service, cold refreshments, and VIP parking.
Tailgate Price: $375, Each tailgate ticket will include 6 general admission tickets, a 10×10 tent and one designated parking spot. Decorate your tailgate- creativity is encouraged! please do not bring any extra large vehicles (such as a car, boat, big trailer, etc.) as they are limited on space.
Sunday Brunch – $125 per individual
Polotini Party – $150 per individual 
General Admission Ticket – $25 per individual
VIP Parking – $25 per vehicle
General Parking – $10 per vehicle
For reservation questions, please call 561-753-3389 or email us at dm@phelpsmediagroup.com
---
Gay Polo League is a community that shares a love for adventure, fun and the challenging sport of polo. GPL is committed to providing its members with an enjoyable, supportive and competitive experience. GPL represents a wide range of ages, backgrounds and skill levels. GPL trains and competes in mainstream matches and events while sharing enthusiasm for the sport, to change perceptions about the community.
323-712-3514 | gaypolo.com