Bioluminescent Kayak Tours
During the warm summer months, the waters of the Indian River Lagoon after sunset come alive with light (Bioluminescence). The source of bioluminescence is dinoflagellates,  single-celled organisms common in marine environments. Each bioluminescent dinoflagellate flashes only a fraction of a second when disturbed by water movement, but its high concentrations in the warm Indian River water create [...]
2015/07/08 7:26 PM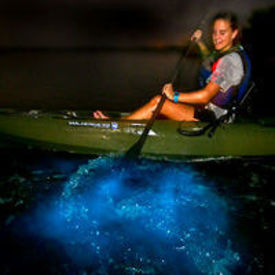 During the warm summer months, the waters of the Indian River Lagoon after sunset come alive with light (Bioluminescence). The source of bioluminescence is dinoflagellates,  single-celled organisms common in marine environments. Each bioluminescent dinoflagellate flashes only a fraction of a second when disturbed by water movement, but its high concentrations in the warm Indian River water create beautiful bluish-white trails of light caused by swimming fish and paddling kayakers. A swimming manatee may be completely concealed in a spectacular, other-worldly cloud of bioluminescence.
Bioluminescence is considered "best viewed" during certain phases of the moon. The darker the night, the better viewing of the bioluminescence. For July-October the best moon phase, according to A Day Away Kayaking Tour's Moon Phase Calendar, is the following:
July 4-18th
August 3rd-17th.
September 1st-15th
October 1st-15th
If you want to take a trip to the Indian River Lagoon to see bioluminescence first hand, WE suggest checking out some these tours.
A Day Away Kayak Tours: www.adayawaykayaktours.com
Calypso Kayaking: calypsokayaking.com
Adventures in Florida: adventuresinflorida.com
Featured Image Courtesy of http://www.visitspacecoast.com