Charlotte Dujardin Crowned Champion at 2015 Reem Acra FEI World Cup
2015 Reem Acra FEI World Cup Dressage Champions Charlotte Dujardin of Great Britain and Valegro (c) McCool Photography The atmosphere at the Thomas & Mack Center was electric as eighteen of the world's best horses and riders took to the arena Saturday to compete in the FEI World Cup™ Grand Prix Freestyle, the concluding competition of […]
2015/04/20 2:48 PM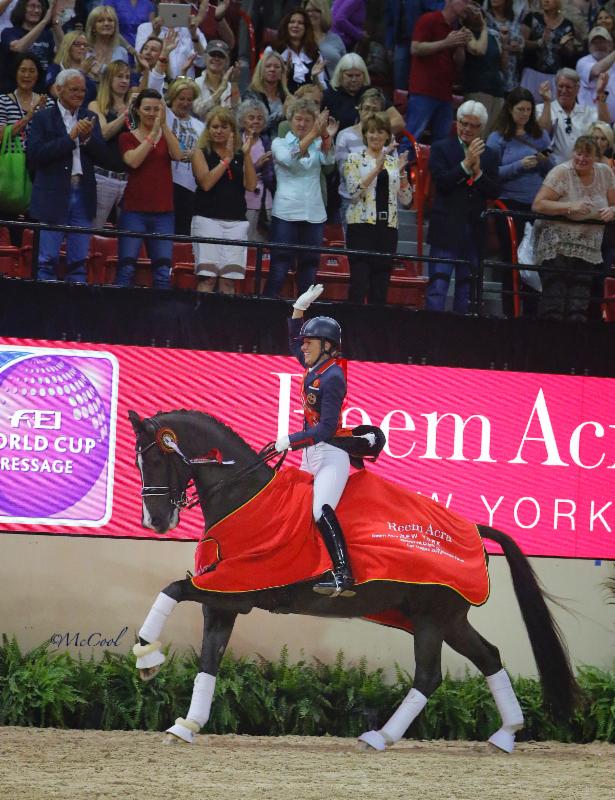 2015 Reem Acra FEI World Cup Dressage Champions Charlotte Dujardin of Great Britain and Valegro (c) McCool Photography
The atmosphere at the Thomas & Mack Center was electric as eighteen of the world's best horses and riders took to the arena Saturday to compete in the FEI World Cup™ Grand Prix Freestyle, the concluding competition of the 2015 Reem Acra FEI World CupTM  Dressage Final. Last year's winner, Charlotte Dujardin of Great Britain and her wonder horse Valegrosuccessfully defended their title, scoring a 94.196% for their performance to clinch the win.
This is the first time that the FEI World Cup™ Finals have been held in the U.S. since 2009, and the fourth time that Las Vegas as hosted the Final for dressage. 10,920 enthusiastic spectators filled the stadium to watch Saturday's star-studded Final, with many clapping along to the music of the performances.
Fifteenth to go in the starting order, Dujardin and the 13 year-old Valegro danced their way across the arena to their music from "How To Train A Dragon", executing seamless transitions between movements and amazing extensions, drawing applause from the crowd. They are the only duo in the history of the sport to hold Olympic, World, European and World Cup titles simultaneously, as well as all three world records. This was their second visit to the winner's circle during the Final, as they also won the FEI World Cup™ Grand Prix on Thursday
"I had a really good ride and it's an incredible feeling!" said Dujardin. "Having a horse like Valegro is just amazing. He goes into that arena to perform – all I have to do is steer," she said with a laugh. "I wasn't sure how he would cope with all those people, but I think he loved the American crowd!"
When asked about how she coped with the pressure knowing she was defending her title, Dujardin commented, "I don't think of the pressure because then I wouldn't enjoy it. I would get nervous and worry about it. So I just go in there to do my best and that's all that I can do."
Edward Gal of The Netherlands and Glock's Undercover N.O.P. (c) McCool Photography
Former World Champion Edward Gal of the Netherlands, the FEI World Cup™ Champion in 2010, took second place aboard Glock's Undercover N.O.P. after a super performance, scoring 84.696%. This is Gal's ninth FEI World Cup™ Final appearance, and his third aboard the 14 year-old gelding Glock's Undercover, whom Gal competed at the 2012 London Olympic Games. The pair also took the runner-up spot in Thursday's FEI Grand Prix competition.
"I had a great ride and I'm really happy with how my horse went today," said Gal. "He was more relaxed today than Thursday so I could ride him a bit more."
Last to go in the competition, Germany's Jessica von Bredow-Werndl stayed cool under pressure, and produced an expressive test aboard the 14 year-old stallion Unee BB to earn a score of 80.464% and take third place. This is the pair's second trip to the FEI World Cup™ Dressage Finals, having placed seventh at last year's Finals in Lyon, France.
"Unee BB always tries to do his very best, and he likes to show off a little because he's a stallion," said von Bredow-Werndl. "I'm really happy with his performance today."
Jessica von Bredow-Werndl of Germany and Unee BB
(c) McCool Photography
U.S. rider Laura Graves, a 2014 Alltech FEI World Equestrian Games™ veteran, took fourth place in her first-ever FEI World Cup™ Final aboard her own 13 year-old gelding Verdades with a score of 79.125%. The pair moved up a spot in the final placings as countryman Steffen Peters and Legolas 92 were eliminated due to a small amount of blood found on the horse's side after the completion of their test, which is a cause for elimination according to FEI rules.
"I couldn't be more pleased with him," said Graves. "This is my first trip to Las Vegas and it feels very surreal!"
U.S. rider Laura Graves and Verdades
(c) McCool Photography
In addition to watching the heated competition of the world-renown horses and riders vying for the FEI World Cup™ title, spectators were treated to an amazing opening ceremony, the kind of which can only be found in Las Vegas.  Elisa Furr, who is performing as Celine Dion in Legends in Concert at Flamingo Las Vegas, sang the National Anthem. Lexi Walker, just 12 years-old and already a contender on America's Got Talent, sang the crowd favorite "Let It Go" from the Disney movie "Frozen" while two female aerial acrobats performed on silk ropes. Next up was a superb pyrotechnics and laser light show set to Bruno Mars's top hit 'Uptown Funk.' Viva Las Vegas!
(L-R) Edward Gal, Charlotte Dujardin and Jessica von Bredow-Werndl
(c) McCool Photography
The LONGINES FEI World CupTM Jumping Final continues with Sunday afternoon's two-round Final, as well as Saturday evening's $75,000 Canadian Pacific Grand Prix of Las Vegas.
VIP guests of the FEI World Cup™ Finals are being treated to top amenities that can't be duplicated anywhere else in the world at the Taylor Harris Club presented by The National Horse Show. The Taylor Harris Club includes a private VIP hospitality area complete with deluxe food and beverages as well as VIP preferred parking.
Started in 1979, the FEI World Cup™ Jumping Final is an annual international showdown among the world's best show jumping horses and riders. In the 36 Finals held through 2014, Germany (10) and the United States (9) have emerged with the most titles, having won the championship nineteen times between them. Previous FEI World Cup™ Jumping Finals held in the United States include Baltimore (1980), Tampa (1989), Del Mar, CA (1992) and Las Vegas (2000, 2003, 2005, 2007, 2009).
First held in 1986, the FEI World Cup™ Dressage Final features the world's best dressage horses and riders. The United States has won the championship twice – in 2003 (Debbie McDonald with Brentina) and 2009 (Steffen Peters with Ravel). The Final has been held in the U.S. in Los Angeles (1995) and Las Vegas (2005, 2007, 2009).
Las Vegas Events is a private, not-for-profit organization that serves as the exclusive major special events agency for the city.  Founded in 1982, LVE is funded by hotel room tax.  Through its Signature Event initiative, LVE has created a model to integrate all elements of special events and formally improve communication between event producers and Las Vegas' hotel properties and sponsors.  Since 1991, Las Vegas Events has produced, presented or supported more than 600 events.
For further information, please visit the World Cup's website at www.WorldCupLasVegas.com.
For more information about watching video streaming on FEI TV please visit: www.feitv.org
Written by worldcuplasvegas.com