Food and Fond Memories
Mushroom Burger with Fried Eggplant and Lemon Garlic Aioli For me most of my fondest memories revolve around food. From the time I was a small child I was fascinated by how my mother and grandmother took simple raw ingredients and transformed them into delicious delights. By the time I was in high school I [...]
2015/01/08 1:55 AM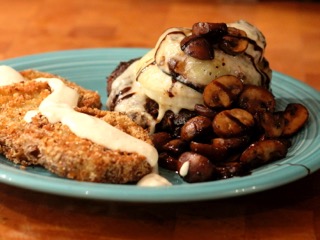 For me most of my fondest memories revolve around food. From the time I was a small child I was fascinated by how my mother and grandmother took simple raw ingredients and transformed them into delicious delights. By the time I was in high school I was preparing elegant dinner parties for my friends. Now my parties, though legendary, are much more casual than they used to be. I still pay very close attention to the details and set a beautiful table but I am much more relaxed and confident. Nothing gives me greater pleasure than seeing people enjoying my food.
I would like to introduce myself. I am Sandy Axelrod, former owner of Affairs to Remember Catering and proud new owner of Food and Fond Memories Cooking School and Catering here in Wellington. Over the years we were in business many of you used our service and know me. Although Hurricane Wilma force me into early retirement from the catering business food service is in my blood. As is everything related to it. On this page I will try to keep you up to date with where to dine and possibly dance and have cocktails in our local area. Perhaps I may even share a recipe or two.
In addition to writing this page I have been writing my blog/website foodandfondmemories.com for over five years. I am working on two memoir/cookbooks, teaching cooking classes, catering small parties including delivering starters and desserts, and doing free-lance food writing and food photography.
If you are looking for fun activities right here in Wellington I teach small hands-on cooking classes in my home kitchen. My aim is to show people how fun and easy it is to prepare healthy and restaurant quality food at home. I teach many simple techniques. Many people have requested that this be turned into a dinner party so I now also offer Dinner Party with the Chef. The new class schedule will be up on my site in just a few days.
And if you really don't want to cook – I also cater small dinner parties in your home or I can prepare hors d'oeuvre and desserts and everything in between to deliver to your home for a party or just a weeknight dinner. All of that information will also be on the website by Sunday, January 11, so be sure to check it out at foodandfondmemories.com!
Have a delicious day,
Sandy