Kent Farrington and Willow Victorious in $85,000 Suncast® 1.50m Championship Jumper Classic
Wellington, FL – Week nine of the 2015 Winter Equestrian Festival (WEF) concluded on Sunday with a win for Kent Farrington (USA) and Willow in the $85,000 Suncast® 1.50m Championship Jumper Classic competing at the Palm Beach International Equestrian Center (PBIEC) in Wellington, FL. Alan Wade (IRL) finished the week with another strong track for […]
2015/03/11 5:10 PM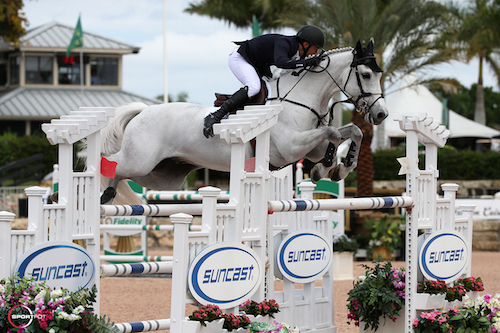 Wellington, FL – Week nine of the 2015 Winter Equestrian Festival (WEF) concluded on Sunday with a win for Kent Farrington (USA) and Willow in the $85,000 Suncast® 1.50m Championship Jumper Classic competing at the Palm Beach International Equestrian Center (PBIEC) in Wellington, FL.
Alan Wade (IRL) finished the week with another strong track for the horses and riders in the 1.50m competition, with 64 entries and nine clear rounds. A tight 73-second time allowed kept nine others out of the jump off, clear over the jumps but late across the finish line.
In the tiebreaker, three cleared the short course without fault. Lauren Hough (USA) and Paris Sellon's Adare finished second with their time of 35.21 seconds. Darragh Kenny (IRL) placed third in 35.71 seconds with Hyperion Stud LLC's Chin Quidam VDL, and Farrington topped the pack in 34.87 seconds aboard Amalaya Investments' Willow.
Farrington qualified two mounts for the jump-off. He jumped first with Amalaya Investments' Waomi, who he rode to victory in week seven's 1.50m classic. The pair was fast, but had two rails down in the process and finished eighth. This time it was Willow's turn in the winner's circle, and the 12-year-old Dutch Warmblood gelding (Guidam x Little Rock) blazed through the track.
"I just used the length of his stride to my advantage," Farrington said of his winning round. "I probably do less strides than the other horses do. Certainly to the combination I left out one stride. That is a pretty risky thing to do, but he has such a big stride that I figured my chances of clearing it were probably the same whether I did seven or eight. Then I probably did one less stride to the next one and one less stride to the last as well. Naturally, he has a very big step, so it is easy to use that in a jump-off."
"Waomi has been a consistent player for me at that level," Farrington noted. "Willow, I have been using in some bigger classes that are probably a touch over his head this winter, trying to rest Voyeur and my other bigger horses. I put him back at his comfort level and he showed why he is good for that, so I am very happy with him today."
"He has a fantastic gallop," the rider detailed. "He is really game; he is brave. He is a lot of fun to ride and he is naturally very fast, so you just have to try to contain him throughout the course and usually he produces good results."
Speaking of his plans for Willow this year, Farrington, explained, "I would like to use him as a top second horse. I think that is really his role. He can compete anywhere in the world, and he has such a great heart. If you ask him to jump a big one, he will do it. He almost won the 5* here, the first one around. He had the last fence down in the jump-off, but I thought he tried his guts out. He will kind of do whatever you want, but I think his most competitive level is as a second horse. I think he can win a ton."
Concluding another great week of competition, Farrington praised course designer Alan Wade on his tracks for the week.
"I think Alan Wade is one of the best course designers in modern show jumping," Farrington acknowledged. "I think we all appreciate that he is here to build. It is real level, but it is intelligent building and I think the courses all week have been great."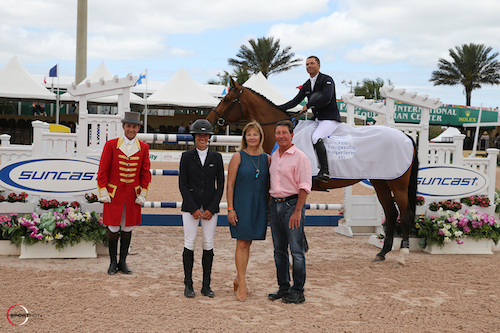 The Suncast® 1.50m Championship Jumper Series, always an exciting and competitive division throughout the 12-week WEF circuit, has a fantastic prize for the leading rider of the series this year. Suncast® will provide a pre-paid two-year lease on a beautiful new 2015 Range Rover Evoque.
During WEF 12, the Range Rover Evoque will be on display at the Spectator Entrance of the Palm Beach International Equestrian Center and will be on course in the International Arena during the $100,000 Suncast® 1.50m Jumper Championship Series Final (Round 2) to be held on Saturday evening, March 28, 2015, which is when the Evoque will be awarded to the series' leading rider.
Series specifications and rankings can be found in the WEF Horse Show office. The top riders in the series will be recognized on the Suncast® 1.50m Jumper Championship Series leaderboard by the PBIEC Exhibitor Entrance and will also be included in the WEF Weekly Wire, the printed newsletter available on the show grounds and online at www.PBIEC.com.
Also showing in the International Arena on Sunday, Emma Heise won the $10,000 Sleepy P Ranch SJHOF High Junior Jumper Classic aboard Old Willow Farms LLC's Little Lady. Lucy Matz and D.D. Matz's Cardella won the $10,000 Hollow Creek Farm Medium Junior Jumper Classic.
Summer Catch and Dawn Fogel Win Back to Back Blues in the Karina Brez Jewelry Adult Amateur Hunter 36-49 Section B
To start Sunday morning, Dawn Fogel, from Louisville, KY, guided her horse Summer Catch to the championship prize in the Karina Brez Jewelry Adult Amateur Hunter 36-49 Section B. Fogel dominated over the two days winning three of the over fences classes. The only class that Fogel did not win, she placed second in.
Laura Karet rode Patricia Raynes' horse, Saratoga, to reserve championship honors. Saratoga was first and fourth over fences, combined with a second place in the under saddle.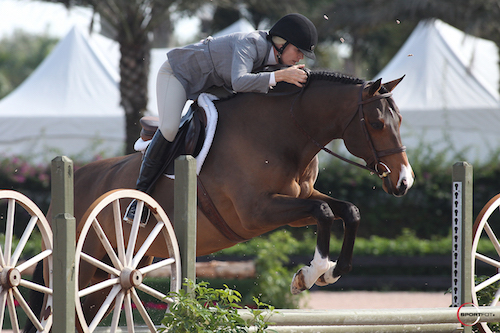 Fogel bought Summer Catch a year ago and has enjoyed showing him in the Adult Amateur Hunter and Amateur-Owner hunter divisions. Unbeatable on the second day of the division, Fogel commented, "Today he [Summer Catch] felt great! He went around very smoothly and jumped well."
Summer Catch is a 13-year-old Dutch Warmblood and enjoys competing in the larger hunter ring. "He has a huge stride and is a big horse, so he usually shines in the bigger ring," Fogel noted.
While Fogel was very complimentary of her horse's performance, she also remarked about the quality of the rings and course at WEF. "It was a nice course today, and the jumps got the horses attention to help them jump well," Fogel commented.
Although Fogel is based in Kentucky, she spends her winters in Wellington. Fogel works as an equine insurance broker and is able to take her job wherever she goes.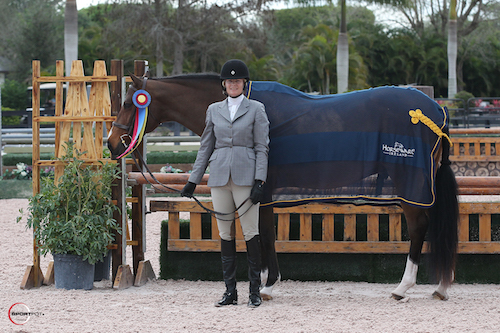 The 2015 Winter Equestrian Festival continues with its tenth week of competition, sponsored by Horseware Ireland, on March 11-15. The highlight event of week ten is the $127,000 Horseware Ireland Grand Prix CSI 3* on Saturday, March 14. For full results and more information, please visit www.pbiec.com.
Correction: Michael Hughes was the rider of Christina Fried's MacArthur in Saturday night's $372,000 FEI World Cup Grand Prix CSI-W 5*, presented by Douglas Elliman Real Estate.
Final Results: $85,000 Suncast® 1.50m Championship Jumper Classic
1. WILLOW: 2003 KWPN gelding by Guidam x Little Rock
KENT FARRINGTON (USA), Amalaya Investments: 0/0/34.87
2. ADARE: 2005 KWPN mare by Royal Bravour x Burggraaf
LAUREN HOUGH (USA), Paris Sellon: 0/35.21
3. CHIN QUIDAM VDL: 2006 KWPN stallion by Chin Chin x Quidam de Revel
DARRAGH KENNY (IRL), Hyperion Stud LLC: 0/0/35.71
4. VALINSKI S: 2002 KWPN gelding by Nikinski x Julius
BEN MAHER (GBR), Wyndmont: 0/4/36.09
5. AZIBANTOS: 2005 KWPN gelding by Chin Chin x Cantos
MCLAIN WARD (USA), Group C LLC: 0/4/36.39
6. CHECK PICOBELLO Z: 2006 Zangersheide gelding by Cardento x Orlando
ERIC LAMAZE (CAN), Artisan Farms LLC and Torrey Pines Stable: 0/4/36.93
7. CASSIS 54: 2005 Bavarian Warmblood by Candidatus x Landadel
LUCY DAVIS (USA), Old Oak Farm: 0/4/38.39
8. WAOMI: 2003 KWPN mare by Lupicor x Boreas
KENT FARRINGTON (USA), Amalaya Investments: 0/8/36.15
9. FIRST CHOICE 15: 2003 Hessian Warmblood gelding by For Keeps x Angard
YANN CANDELE (CAN), Janice Aron: 0/8/40.01
10. CUARTA: 2006 Holsteiner mare by Canto x Coriano
PIERGIORGIO BUCCI (ITA), Stal Bucci B.V. & SPCS: 1/73.78
11. CASSINJA: 2005 Holsteiner mare by Cassini I x Caletto I
ALISON ROBITAILLE (USA), M/M Bertram Firestone: 1/73.98
12. VERDI: 2002 SCSL gelding by Andiamo x Libero H
ANDRES RODRIGUEZ (VEN), Verdi Group: 1/74.04
Photo Credit: Photos © Sportfot, An Official Photographer of the Winter Equestrian Festival, us.sportfot.com.
By: Jennifer Wood