Longines Global Champions Tour 2015 heads to China
The championship circuit touches down in Shanghai with a string of top riders within striking distance of the ranking leadership. The 4th Leg of the 2015 series marks the second appearance in China after a landmark agreement permitted a temporary quarantine zone allowing international sport horses into the mainland for the Longines Global Champions Tour […]
2015/05/04 1:46 PM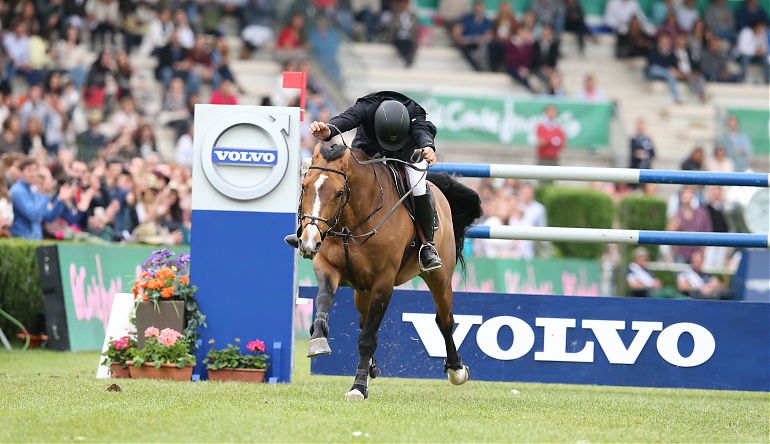 The championship circuit touches down in Shanghai with a string of top riders within striking distance of the ranking leadership.
The 4th Leg of the 2015 series marks the second appearance in China after a landmark agreement permitted a temporary quarantine zone allowing international sport horses into the mainland for the Longines Global Champions Tour event.
Scott Brash re-took the championship lead at the 3rd stage in Madrid this weekend, but only has a narrow advantage over Luciana Diniz, who won Saturday's Grand Prix in Madrid. On Sunday night the 5* Copa del Rey class was won by Roger-Yves Bost in another tough competition which saw 10 go through to the second round on a clear round. Five combinations finished with a double clear round, however it was Roger-Yves Bost on the speedy Quod'Coeur de la Loge who beat off a strong challenge from Constant Van Paesschen in the jump-off, with Edwina Tops-Alexander close behind in third.
After the large, sweeping grass arena of Madrid, riders will face a totally different test of skills switching to a sand surface in Shanghai. The 80m x 60m arena overlooked by the dramatic red China Art Pavilion at the Expo Park will once again feature courses designed by Uliano Vezzani.
The Shanghai event will be another rich feast of top-level sport and entertainment. Last year almost 30,000 fans watched the best riders and horses in the world make history by competing at the first Longines Global Champions Tour in China. This year spectators and VIP guests will once again enjoy a lively social scene and opportunities to get up close and personal with the riders at autograph and photo sessions.
Catch all the latest news, photos and videos on www.globalchampionstour.com and follow them on Facebook, Twitter, Instagram and YouTube.
Photo: Stefano Grasso/LGCT