The Pool
June 4 – July 4 (nightly) 7:00 p.m. to 11 p.m.* New to the waterfront this summer is The Pool, a temporary interactive art installment by prominent light sculptor, Jen Lewin. The Pool is comprised of giant, colorfully glowing concentric circles where guests can run, jump and play together, making art out of lights. The installation [...]
2015/06/02 4:18 PM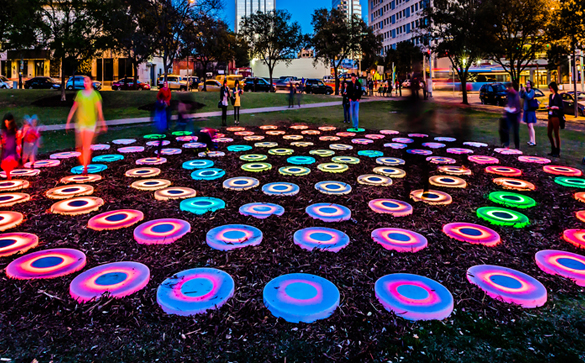 June 4 – July 4 (nightly)
7:00 p.m. to 11 p.m.*
New to the waterfront this summer is The Pool, a temporary interactive art installment by prominent light sculptor, Jen Lewin. The Pool is comprised of giant, colorfully glowing concentric circles where guests can run, jump and play together, making art out of lights. The installation has fascinated and entertained thousands around the world and will now shine a light on West Palm Beach, its first Florida appearance. Guests can see it come to life nightly starting at dusk, along with an impressive light effects and music.
The Pool is an exciting Art in Public Places initiative opening concurrently with the finalization of the City of West Palm Beach's Master Arts Plan.  The Master Arts Plan acknowledges the value of public art projects and the role visual artists can have in fostering creative growth for the City.
*Hours subject to change during scheduled special events.
West Palm Beach Waterfront, Great Lawn is presented by the City of West Palm Beach Art in Public Places (AIPP) Program.
For more information visit downtownwpb.com