WEF 3: Lunch & Learn Series
2015/01/23 1:10 AM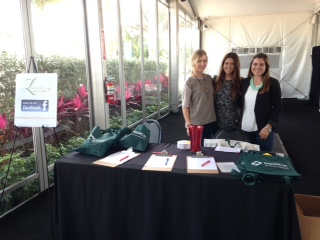 WE were greeted by these lovely ladies from Equestrian Sport Productions, including the series organizer, Laura Bostwick (right).
Today, WE were excited to be able attend the second of eleven informational series held in The Wellington Club at the Palm Beach International Equestrian Center by Equestrian Sport Productions. This fun "Lunch & Learn" series is open to riders, trainers & owners and offers a free catered lunch and a guest speaker, with topics that change every week. It is a great way to spend your Thursday afternoon while sitting in an air-conditioned tent overlooking the International Ring!
This week, the speaker was Wendy Vaala, VMD, dipACVIM, and was sponsored by Merck Animal Health Equine. The topic was Equine Influenza and Herpes Viruses: Current Information About Clinical Signs, Detection, Prevention, and Recovery. She spoke about the importance of knowing your own horse's average temperature, pulse and respiration in order to protect against diseases and catch dangerous, contagious ones early. Vaala was a candid speaker, who inspired many audience members to raise important questions that sparked further discussion.
This series will continue throughout the 12 weeks of WEF, and takes place every Thursday from 11am to 1:30pm. To find out more information, you can check out their Facebook page here.
---
Written by Cat Allen, Editing Contributor to Wellington Elite